Paragon Print Systems, Inc. offers a comprehensive promotions product and brand management platform for large enterprises. We connect all of your cost centers, marketing managers, and purchasing decision makers using our powerful platform.
Our services drive out cost of managing, ordering, distributing and billing promotional products. We reduce the cost of the products and drive costs out of the process. Buyers, managers and all decision makers gain visibility in daily requirements of all promotional products while not having to manage ordering and distribution.
Reduce procurement costs
Stock, distribute and manage all promotional products
Central Platform: Manages daily distribution requirements, rollouts, sales and marketing campaigns and tradeshows, special events.
Your online company store. Not a canned platform – built to your specifications and process. Our custom websites drive order processing automatically through your approval process by cost center.
Custom reporting and visibility on all activity.
Monthly billing by cost center to reduce cost of A/P. 1 invoice per month – 12 payments per year. Consider the reduction of cost with thousands of shipments per year.
Focus on brand and marketing rather than supply chain requirements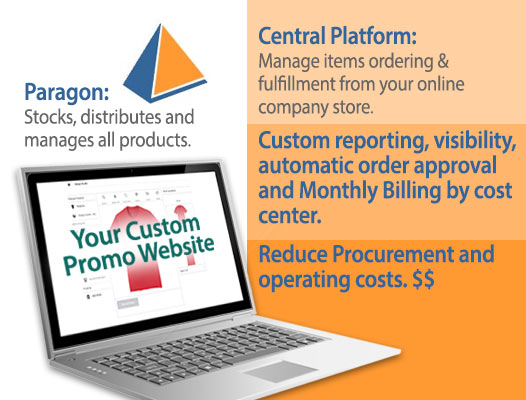 We provide the support, account management, processes, and platform to assist in the marketing and merchandising management of any size enterprise. We drive efficiencies at every stage of the promotional process.
Learn More and see why fortune 500 companies choose Paragon Print Systems, Inc. for Promotional Product Management.
Our award winning corporate promotional fulfillment and brand management program brings you the products and delivery system you need, a visibility platform for your enterprise. Our solution drives down costs of processes and speeds implementation of new products and marketing initiatives to your clients and employees. We build and manage promotional product programs for fortune 500 companies and have been awarded by our clients for our quality of service.
Our services include:
Inventory Logo Products and Customized Invoicing
Manage Logo Brand with marketing and all cost centers
Pick and pack, kitting services from our distribution centers
Managed roll-outs, marketing campaigns, daily replenishment, tradeshows and special events.
Custom internal websites delivering product and approval process to multi levels of your corporate structure
Customized invoicing by cost center
Overseas and domestic product availability
Logo Apparel, Silkscreen or Embroidery
Logo corporate handouts. 10's of thousands of products. Member Advertising Specialty Institute (ASI)
Corporate Promotional Programs & Online Promo Company Stores
Stocking of customized products including apparel, awards, incentives and handouts. Shipping on demand as needed, same day.
Contact us to schedule a consultation.